Full mouth dental restoration solution
All-on-4 implants are suitable for full mouth dental restoration. Implants are placed in either the upper or lower arches to support a full arch of upper and/or lower teeth.
Each patient's jaw bone structure will be different and All-on-4 dental implants will depend on the suitability of the existing bone structure.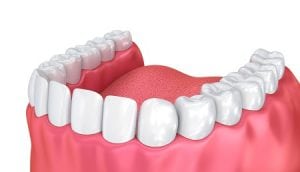 What are All-on-4 implants?
All-on-4 dental implants use 4 implants in the upper or lower jaw. The implants at the back are usually placed at an angle for added support. The set of permanent replacement teeth are individually designed and created then secured into place at these 4 points.
As a result of the nature of the implants, there is often a reduced need for any bone grafting. This speeds up the treatment and recovery time for patients and reduces the overall number of appointments required.
Contact us to find out more information.