Strengthen and improve your teeth
Crowns are 'caps' for your teeth and are suitable following Root Canal Therapy,
or if your tooth breaks down. They can be used to help strengthen teeth that have been heavily sealed, capped or chipped.
Crowns can be constructed from several different materials including Gold Alloy and Porcelain.
Our dental team is highly qualified and experienced with all types cosmetic dentistry. Your dentist will discuss the treatment options available for your particular situation and budget.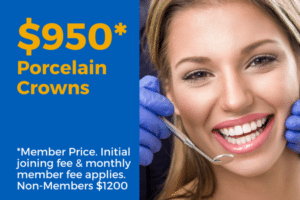 Dental Crowns treatment
We perform dental crown work across several appointments. The first appointment is where the tooth is prepared and the impression taken. We also place a temporary restoration on the tooth. Once the Crown has been created by the dental lab, we will put the Crown in place during a second appointment.