We are proud to announce the latest addition to the Fix Dental team, Young Jae Son. Young Jae Son is a dental prosthetist who is now accepting patients who require a new denture or assistance with an existing denture.
Young Jae Son complete his Bachelor of Dental Prosthetics in 2018 and holds this qualification in addition to a Diploma of Dental Technology he earned in 2012. He has a wife and young daughter.
If you are looking at getting dentures or need assistance with loose or broken dentures, give Young Jae Son a call or book an appointment here.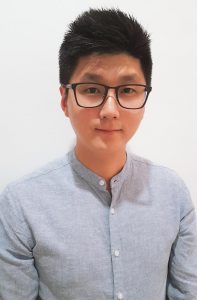 Same-Day Denture Repairs
The major benefit of having Young Jae Son in-house is our ability to conduct same-day denture repairs. Rather than sending dentures away to an external provider to conduct repairs, Young Jae Son can perform all repairs in the Fix Dental lab and get you on your way much sooner.
If you're interested in same-day denture repairs, be sure to get in touch and book a consultation. We'll get your denture repairs completed rapidly so you can go about your life.
Fast Denture Design
Young Jae Son is an expert at denture design. From initial consultation to moulds, x-rays, inspections and other necessary procedures, we can get the parameters required for your dentures and have them built in a very short timeframe.
It's important that your dentures are well-fitted and made to last. By designing and building them in-house, we can get you the best possible results in the shortest possible time. As always, you'll also get the lowest denture prices available.
What is a Dental Prosthetist?
Dental prosthetists design and make prosthetic replacements and enhancements for people who have missing or damaged teeth. Our dental prosthetist, Young Jae Son is a specialist in dentures, also known as false teeth, and has many years of experience in fitting and applying dentures to patients with a broad variety of unique needs.
Cost of Dentures for Pensioners
The cost of dentures varies depending on the amount of inspection and preparation required, the extent of the dentures, the material, and whether they are on both jaws or just one. Our standard pricing for dentures is as follows:
Repairs: $250
Partial Dentures (Acrylic): $950
Partial Dentures (Chrome): $1500
Full Dentures (Single Arch): $1500
Full Dentures (Upper & Lower): $2800
View more denture pricing information on our Dental Fees page.
Partial Dentures vs Full Dentures
Depending on the current condition of your teeth and overall dental health, you may need either partial or complete dentures. Complete, also known as full, dentures are usually recommended in conjunction with the extraction of all teeth. This is a complete replacement of your existing teeth.
Partial Dentures are closely related to dental bridges. They involve the replacement of a few teeth rather than all of your teeth and can be a good solution when you still have plenty of healthy, functioning teeth.
You can learn more about Partial and Full Dentures on our Dentures page.
How to Care for Dentures
It's very important that you take good care of your dentures on a daily basis. This helps extend their life and will also improve your oral hygiene.
Brush regularly, using a soft-bristle denture brush. You'll want to brush every corner of your dentures to ensure that you remove any plaque, food particles and other debris. It's important that you take care to avoid damaging your dentures while brushing them – take it easy, brush softly and be thorough.
You should remove your dentures overnight and let them dry out. This can help prevent bacterial growth and may also give your teeth and jaws a chance to relax. Some people choose to soak their dentures in a denture cleanser. Make sure you consult your dentist before doing this, however, as not all denture cleansers are compatible with all dentures.
Denture Adjustment
Many people need denture adjustments, either within the months after getting their new dentures or due to changes over long periods. Our new prosthetist, Young Jae Son, is happy to help with any denture adjustments that you may need done. Thanks to our in-house lab, we can make adjustments quickly and at great convenience to our patients.
How much do Dentures cost with Extractions?
Extractions are often required as part of the process of getting dentures. Our extraction fees are fixed, meaning you know exactly what you can expect to pay when you come in for an appointment.
Extraction (non-surgical): $179
Extraction (surgical): $299
In addition to the extraction costs, our denture costs are:
Partial Dentures (Acrylic): $950
Partial Dentures (Chrome): $1500
Full Dentures (Single Arch): $1500
Full Dentures (Upper & Lower): $2800
View more denture pricing information on our Dental Fees page.
Book an Appointment with our Prosthetist
If you're interested in learning more about dentures or need some assistance with your existing dentures, book a consultation with Young Jae Son. He will be able to guide you through the process and help determine the next steps that you'll need to take.
Call (07) 3343 8488 or book online here.