Lumley Dental is now Fix Dental,
Great Teeth at Fixed Prices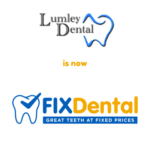 Lumley Dental is now Fix Dental.
We believe a healthy smile can come at an affordable price. So, we've redesigned our services and fees to provide our patients with quality and affordable dental treatment at low capped prices.
Your Dentist in Upper Mount Gravatt
We offer the full range of dental services in our Upper Mount Gravatt dental clinic.
Affordable dental with capped prices
All of our services have low, capped prices and we offer flexible payment plans
to suit your budget.
Our experienced and qualified team are dedicated to provide you with pain-free,
affordable and professional dental services, ensuring you receive the
appropriate treatment options and dental solutions.
So if you're looking for a quality dental services at a price you can afford, contact us today.