Dental restoration for a natural smile
Multiple teeth implants or implant bridges may be suitable if you are missing more than one tooth. They are usually suitable for those needing 2 or 3 teeth restored.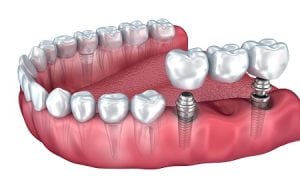 What are multiple teeth implants?
Multiple teeth implants are used to replace several missing teeth without support from the adjacent natural teeth. They are a fixed tooth replacement option.
The implant consists of a rod, made from titanium, that is inserted into one of your jaw bones. It is integrated with your existing bone structure and designed to fit in with your remaining teeth. A prosthetic tooth, Crown or Bridge is placed on top of the implant to replicate the missing tooth or missing teeth.
Contact us to find out more about how we can help you.